SmartBus
SmartBus runs pick up and drop off in connection to all departures and arrivals at Reykjavik Terminal, all day, everyday, all year around.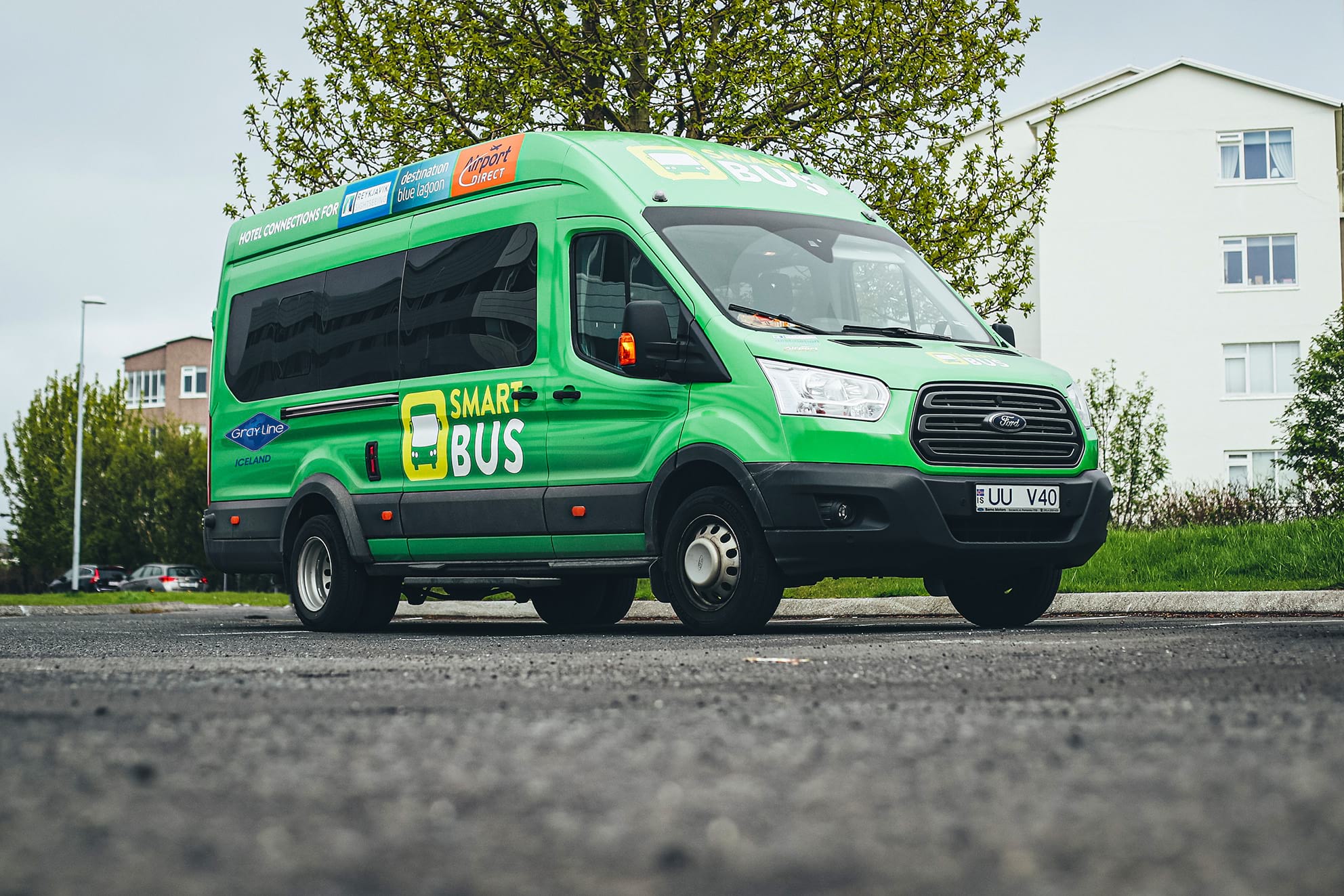 Keflavik Airport to Reykjavik: Hassle-Free Transfers with Smartbus
Are you planning a trip to Iceland and flying into Keflavik International Airport? Look no further than Smartbus, operated by Airport Direct, for your Keflavik airport transfer needs! With our reliable and convenient services, we ensure a stress-free start to your journey from Keflavik to Reykjavik City. Whether you're traveling solo or with a group, Smartbus offers a range of transportation options to suit your needs and budget.
The Convenience of Smartbus
At Smartbus, we aim to provide the best possible service to our customers, ensuring a seamless transfer experience. With our pick-up and drop-off locations at Reykjavik Terminal and Hamraborg in Kopavogur, we take you straight to your destination on schedule. Our company operates 24/7, so you never have to worry about missing your flight or arriving late.
Hotel Connection: Efficient and Eco-Friendly
Our Hotel Connection service, operated by Smartbus, offers pick-up and drop-off options for Airport Direct, Destination Blue Lagoon, and Reykjavik Sightseeing. With our bright green buses, we provide an eco-friendly pick-up experience, minimizing traffic in the city center. This efficient service transfers you to Reykjavik's main bus stop, where you'll find your bus waiting to take you to your flight.
If you have booked a hotel connection, keep an eye out for our distinctive bright green Smartbus. It's the perfect way to start your journey in comfort and style.
Pick-Up Locations and Reykjavik City Bus Stops
Smartbus offers pick-up services from your hotel, guesthouse, or designated bus stops in downtown Reykjavik. The city center has restrictions on buses and larger vehicles to maintain a pleasant and safe environment. To accommodate this, the city of Reykjavik has provided special pick-up and drop-off places located in and around the city center. Most hotels in the restricted area are within a short walking distance from these bus stops, making it convenient for travelers.
If you prefer a door-to-door service or are staying outside the downtown area, Smartbus Private is the transfer option for you. Enjoy the luxury and convenience of a private transfer tailored to your specific needs.
A Variety of Transfer Options
At Smartbus, we understand that every traveler has unique requirements. That's why we offer a range of transfer options to suit your preferences and budget.
Shared Transfers: Affordable and Social
If you're looking for an economical option, our shared transfers are a great choice. Share the journey with fellow travelers and enjoy the opportunity to connect with like-minded individuals. It's a fantastic way to make new friends and share your excitement about exploring Iceland.
Private Transfers: Personalized and Exclusive
For those seeking a more personalized and exclusive experience, our private transfers are the ideal option. Enjoy the privacy and comfort of a dedicated vehicle, tailored to your specific requirements. Whether you're traveling with a large group or simply desire a more intimate journey, our private transfers offer flexibility and convenience.
Luxury Transfers: First-Class Comfort
If you want to make your journey truly special, our luxury transfers are the epitome of comfort and style. Travel in a premium vehicle with all the amenities you could desire. Sit back, relax, and indulge in the stunning Icelandic scenery as you make your way to your final destination.
The Smartbus Experience
At Smartbus, we go the extra mile to ensure your travel experience is as smooth and enjoyable as possible. From comfortable and modern vehicles to friendly and knowledgeable drivers, every aspect of the journey is designed with your comfort and satisfaction in mind.
Reliable and Punctual Service
We understand the importance of timeliness. Our drivers are punctual and adhere to strict schedules, ensuring you reach your destination on time. With Smartbus, you can travel with confidence, knowing that your transfer will be reliable and efficient.
Free Wi-Fi Onboard
Stay connected throughout your journey with our free onboard Wi-Fi. Whether you need to catch up on emails, share your travel adventures on social media, or simply browse the web, you can stay connected and entertained during your transfer.
Insider Tips and Recommendations
Our drivers are not just transportation experts; they are also passionate about Iceland and its unique attractions. If you're looking for recommendations on things to do or places to eat during your stay, don't hesitate to ask. Our drivers are happy to share their insider knowledge to ensure you have a memorable and fulfilling experience in Iceland.
Book Your Keflavik Airport Transfer Today
Don't let transportation concerns dampen your Icelandic adventure. Book your Keflavik airport transfer with Smartbus today and enjoy a hassle-free start to your trip. With our reliable service, comfortable vehicles, and friendly drivers, you can sit back, relax, and take in the breathtaking scenery as you make your way from Keflavik International Airport to the Reykjavik City Center. Experience the convenience and value of Smartbus and embark on an unforgettable journey in Iceland.
Additional Information
Please note that the locations and meeting points mentioned above are for the services available through Smartbus. For a complete list of our products and services, please visit our website Smartbus.is. We strive to provide the most reliable and convenient airport transfers in Iceland, ensuring a hassle-free start to your journey. Book your Keflavik airport transfer with Smartbus today and experience the convenience and comfort of our services.