BEST OF ICELAND - WINTER VALUE (Golden Circle, South Coast & Northern Lights)
This package includes the must-do Golden Circle with some the most famous sights of Iceland along with the South Coast including a visit to the black sand beach and some of Iceland's most beautiful waterfalls.
Tour duration 21 Hours
Very easy
电子凭证
可接机
描述
All in one! - 3 Must-Do Tours in 1 Bundle
Day 1 -The Golden Circle Classic is our bestselling day tour! Follow in the footsteps of the Vikings of old as you walk down into the rift valley where the American and Eurasian continental plates are literally pulling apart at Þingvellir National Park, a UNESCO World Heritage Site and the birthplace of the oldest existing parliament. Witness the steaming geothermal springs as the ground trembles and hot water spouts spectacularly skywards from the famous Strokkur Geyser at the home of the one-and-only original geyser and Iceland's most iconic natural attraction. Experience the magnificence and power of Gullfoss Waterfall, a set of glacial river cascades falling 32 meters into a narrow canyon with a thunderous roar. The best part, this is all done within 8 hours!
When night falls we set off in search of the magical and mysterious Northern Lights.
Day 2 -  the South Coast awaits. Leaving Reykjavik we drive eastwards along the southern coastline and explore a volcanic and glacial wonderland. On clear days, Hekla, the infamous Eyjafjalljökull volcanoes along with the Westman Islands can be seen rising in the distance as you approach the Solheimajökull Glacier, a photographer's delight and the first stop on the tour. The next destination is the otherworldly black beach known as Reynisfjara where the waves of the Atlantic Ocean crash upon the black sands from which the seemingly man-made hexagonal basalt columns rise to cliffs filled with nesting sea birds. After taking in your fill of the amazing geological formations, the tour will continue onto the small village of Vík with a church upon a hill overlooking three volcanic stone columns, said to be trolls turned to stone along the shores of the Atlantic Ocean.
After Vík, the trip back towards Reykjavik will take you to the powerful Skógafoss waterfall where a short walk up a flight of stairs will reveal one of Iceland´s most scenic views. From here we will head to the final stop, the 60-meter-high Seljalandsfoss Waterfall famous for the hidden pathway leading behind and around this stunning sight. With some luck and sunny weather conditions, rainbows may add to the spectacular experience at each waterfall. 
行程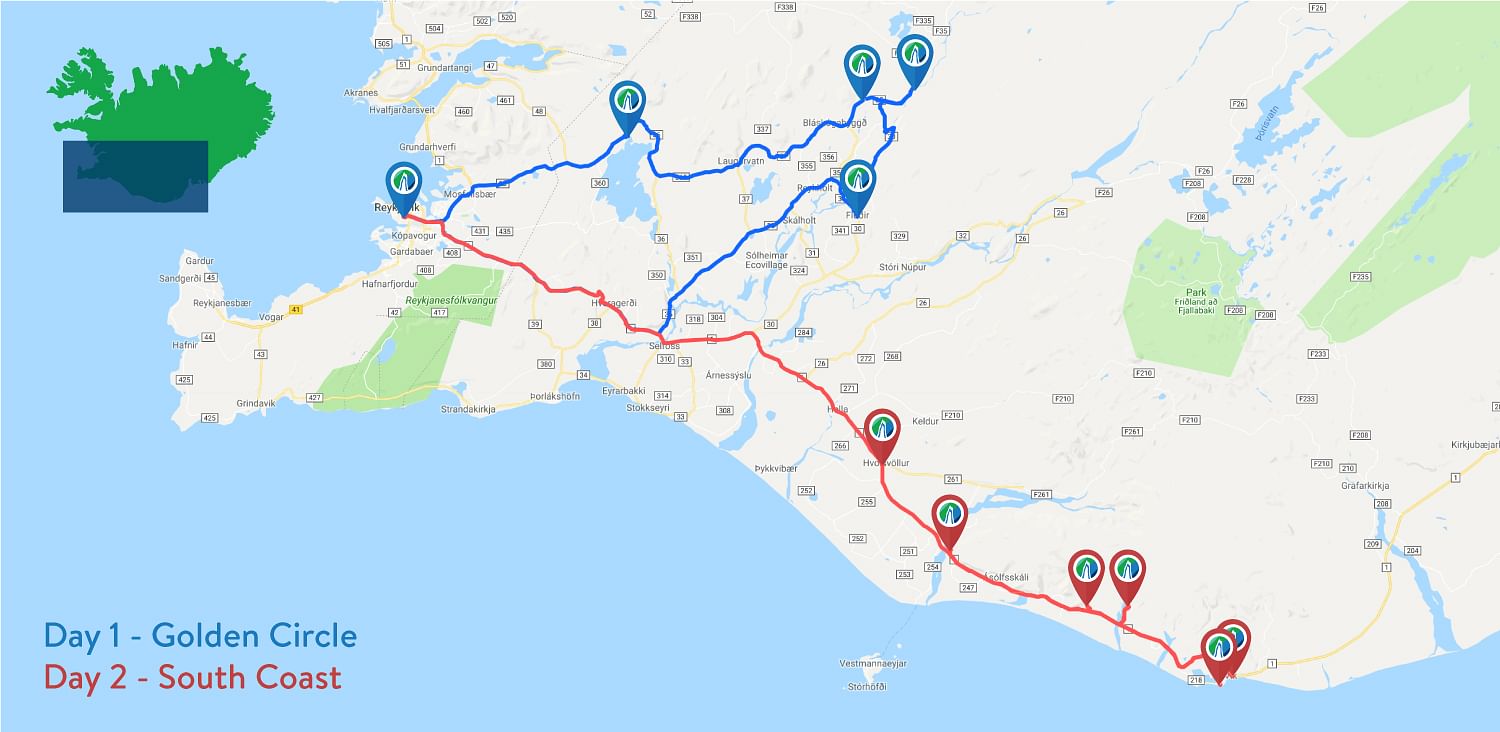 Day 1
Golden Circle Tour: Approx. 7,5 hours including a minimum 45-minute stop at Geysir Hot Springs, Gullfoss Waterfall and Þingvellir National Park. In Geysir & Gullfoss there are shops where you can buy food and drinks.
Total distance covered during tour: 290 km
Northern Lights Tour: Approx 3 hours
Day 2
South Coast tour: Approx 10-11 hours, including a minimum 30-minute stop at Seljalandsfoss Waterfall, Skógafoss Waterfall, Sólheimajökull Glacier & Reynisfjara Black Sand Beach.
Total distance covered during the tour: 350 km
重要信息
Please show up at our Reykjavik Terminal (located at Skógarhlíð 10) 15 minutes prior to the departure time. Please be ready at your pick-up point with your voucher, either in digital or printed form.
You will be traveling in a coach that holds approximately 40-65 people, but is very spacious and comfortable. There is no bathroom on the bus but there will be plenty of stops where facilities can be used. The bus offers free wifi and USB charging ports.
There will be stops along the way to use the restroom if needed as well as opportunities for lunch. 
Please note, it will not be possible to refund this tour in the event of an unsuccessful northern lights hunt. However, you may re-book the tour and continue coming back on subsequent tours until you have a night of successful northern lights.
Price: Teenagers 12-15 years 50% discount & children 0-11 years old free
Available From 15th August to 14 March
Departures are highly dependent on weather.
Min: No minimum number of participants.
Age limit: No age limit
Bring with you: Dress according to weather. In Iceland, it is always wise to dress in warm, waterproof clothes. Weather changes can be sudden so expect the unexpected. Bring a waterproof jacket and pants, headwear and gloves. Good outdoor shoes are recommended.
In-Bus-Audio-Guide: We recommend that you bring your own headphones, simply because they will fit you best. It is also great for the environment. If you don't have your headphones, with you or forgot to bring them, no worries we sell earphones on board.


包含哪些内容
Knowledgeable local guide
Admission to the sights
Knowledgeable Northern Lights & Stars guide
Learn the basics of Northern Lights photography on our smart tablets
Instructions about how to set up your camera to capture northern lights and the night sky
Northern Lights Guarantee - see the lights or come again for free!
Free Wi-Fi and USB charger for each seat
In-bus audio guide with a choice of 10 languages
我需要携带什么
For the In-Bus-Audio-Guide: Bring your own headphones. Otherwise headphones are available for purchase in every bus from our hosts. 
For your comfort: Dress according to weather. In Iceland it is always wise to dress in warm waterproof clothes. Weather changes can be sudden so be prepared for all weather conditions. Waterproof jacket and pants, headwear and gloves, and warm socks/waterproof shoes are recommended, especially since we will be outside at night.
For Northern Lights: Cameras are almost always better at capturing the northern lights and are more sensitive than our eyes. If you have a DSLR camera and a tripod, bring them along.
kr
31,190
21 Hours , Very easy