SOUTH COAST CLASSIC (Guided in 10 languages)
Experience the wonderful volcanic southern coastline of Iceland with its thundering waterfalls, endless black sand beaches and glacier coated volcanoes, available in 10 different languages!
Tour duration 10,5 Hours
Very easy
Rafrænn miði
Hægt er að sækja á hótel
Bókaðu á netinu og fáðu strax senda staðfestingu
Lýsing
Waterfalls, Glaciers & the Black sand beach
Drive along the southwestern stretch of the ring road leading from Reykjavik along volcanoes, waterfalls, and glaciers to the black sand beach and Iceland's southernmost town, Vík. The tour starts with a drive through the Hellisheiði mountain pass bringing you through moss-covered lava fields and past geothermal springs down to farmland along the coastline. 
On clear days, Hekla, the infamous Eyjafjalljökull volcanoes along with the Westman Islands can be seen rising in the distance as you approach the Solheimajökull Glacier, a photographer's delight and the first stop on the tour. The next destination is the otherworldly black beach known as Reynisfjara where the waves of the Atlantic Ocean crash upon the black sands from which the seemingly man-made hexagonal basalt columns rise to cliffs filled with nesting sea birds. After taking in your fill of the amazing geological formations, the tour will continue onto the small village of Vík with a church upon a hill overlooking three volcanic stone columns, said to be trolls turned to stone along the shores of the Atlantic Ocean.
After Vík, the trip back towards Reykjavik will take you to the powerful Skógafoss waterfall where a short walk up a flight of stairs will reveal one of Iceland´s most scenic views. From here we will head to the final stop, the 60-meter-high Seljalandsfoss Waterfall famous for the hidden pathway leading behind and around this stunning sight. With some luck and sunny weather conditions, rainbows may add to the spectacular experience at each waterfall. 
Visiting the natural treasures of the south coast should be at the top of your Iceland list.
Join our tour and step aboard one of our new buses, fully equipped with WiFi-connected computer tablets for each guest. The tablets provide you with a continuous stream of relevant information along the journey with a GPS-synced Audio Guide, available in a choice of 10 languages.  Along the tour, our local hosts will make your experience comfortable and are happy to answer any questions you might have about our peculiar country. In each seat, you will also find a USB outlet to charge any of your devices.
Ferðalýsing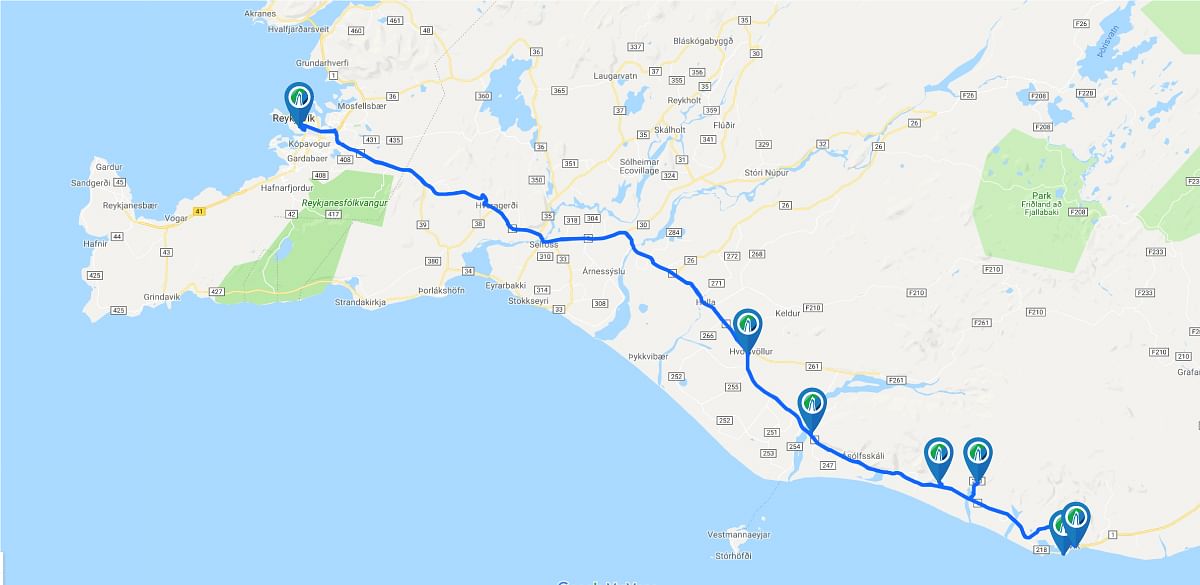 Starting off in Reykjavik from our Reykjavik terminal at Skógarhlíð 10 we will depart for Hvolsvöllur, a 1.5hr. ride. This will be a 15-minute pit stop to grab light refreshments and use the facilities.
The first site along the tour is then Solheimajökull Glacier, a humbling glacial tongue extending from the Myrdalsjökull glacier.

The next stop is Reynisfjara, the famous black sand beach with towering basalt columns, a basalt cave, and jagged lava pillars resembling petrified trolls.

The lunch break will be at the small town of Vik, a cozy town with a typical Icelandic church overlooking the Atlantic Ocean.
Skógafoss waterfall will be the next stop after lunch with a stairway leading up to a view of glaciers, black sand beaches, and epic mountains. 
The final stop will be Seljalandsfoss waterfall with a walkway leading behind the waterfall. From here, the journey back to Reykjavik will be about 1.5hrs.
This tour is 11 hours long including travel time and the time you spend at each location. You spend at least 45 minutes at the major stops giving you plenty of time to enjoy nature and to take some photos.

Total distance covered: 390 km or 242 mi.
Gott að vita!
Please show up at our Reykjavik Terminal (located at Skógarhlíð 10) 15 minutes prior to the departure time. We kindly ask you to be ready at your pick-up point with your voucher, either in digital or printed form.
If you have booked a hotel pickup with Smartbus™, please be at your chosen pickup location 30 minutes before the departure of the tour. Look for the Green Smartbus™ which will be outside your accommodation within 30 minutes of pickup. 
You will be traveling in a coach that holds approximately 40-65 people, but is very spacious and comfortable. The bus offers free wifi and USB charging ports.
Lunch is not included, but in Hvolsvöllur, Reynisfjara, and Vík there are shops where you can buy food and drinks.
Prices: Teenagers 12-15 years 50% discount & children 0-11 years old free.
Available all year round (depending on weather)
Min: No minimum number of participants.
Age limit: No age limit.
Bring with you: Dress according to the weather. In Iceland, it is always wise to dress in warm, waterproof clothes. Weather changes can be sudden so expect the unexpected. Bring a waterproof jacket and pants, headwear and gloves. Good outdoor shoes are recommended.
In-Bus-Audio-Guide: We recommend that you bring your own headphones, simply because they will fit you best. It is also great for the environment. If you don't have your headphones, with you or forgot to bring them, no worries we sell earphones on board.
Duration: 10-11 hours, including a minimum 30-minute stop at Seljalandsfoss Waterfall, Skógafoss Waterfall & Reynisfjara Black Sand Beach.
Total distance covered during the tour: 350 km
Hvað er innifalið?
In-bus audio guide with a choice of 10 languages (English, French, German, Dutch, Italian, Spanish, Chinese, Japanese, Korean and Finnish)
Knowledgeable local guide
Admission to the sights
Free Wi-Fi and USB-charger for each seat
Hvað þarf ég að taka með?
For the In-Bus-Audio-Guide: Bring your own headphones. Otherwise, headphones are available for purchase in every bus from our hosts. 
For your comfort: Dress according to weather. In Iceland it is always wise to dress in warm waterproof clothes. Weather changes can be sudden so be prepared for all weather conditions. Waterproof jacket and pants, headwear and gloves, and warm socks/waterproof shoes are recommended.
kr
13,990
10,5 Hours , Very easy